Public Session: Zombie Laser Tag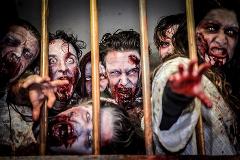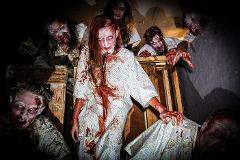 Duration: 60 Minutes (approx.)
Location: North Greenwich, London
Zombie Laser Tag mixes elements of
our Zombie SWAT Training event with our fun-packed laser tag packages. Groups
will play 4 zombie-themed activities including live Zombie actors
within an exhilarating 1 hour session!
Games included are -
Team Death match – Get to grips with our state of the art laser tag kit in
a 2-team death match game.
Zombie Tag – Score points for your group by shooting the zombie hoard,
but be careful – If you get 'tagged' by a zombie you will lose a life!
Scare Maze – Navigate your way through our terrifying scare maze, filled
with gory, lurking zombies.
Zombie Containment – Your final mission is to locate all escaped zombies and
herd them back into containment.